Biography
Laura Reed counsels insurance companies, businesses, non-profit organizations, and individuals regarding insurance coverage issues, and represents them in litigation arising from insurance coverage disputes, and bad faith.
Laura also represents clients in business, and civil litigation involving premises liability, product liability, construction, and transportation issues.
Laura served on the Firm's Management Committee from 2013 to 2016.
Community Activity
Downey Avenue Christian Church

Trustee 2010
Moderator, 2004
Vice Moderator, 2002 – 2003

Pension Fund of the Christian Church (Disciples of Christ)

Board of Directors, 2008 – 2016

North Central High School Band Parent Organization

Vice President 2008 – 2009
President 2009-2010
Representative Matters
Represented an insurance company in a bad faith action before the Seventh Circuit Court of Appeals, which affirmed district court's grant of summary judgment in favor of the client, on the basis that the insurer did not breach its contract or act in bad faith when it filed an interpleader against the insured and numerous claimants, and tendered its policy limits into court, and held that its duty to defend ended upon the deposit of the limits into court: Abstract & Title Guaranty Co., Inc. v. Chicago Ins. Co., 489 F.3d 808 (7th Cir. 2007).
Obtained summary judgment for insured declaring that he was entitled to underinsured motorist coverage under his employer's primary, and excess auto policies with multi-million limits for severe injuries suffered when he was hit by an uninsured motorist while assisting injured motorists: Spencer v. Liberty Mut. Ins. Co., 381 F.Supp. 2d 811 (S.D. Ind. 2005).
Represented insurer in an action in which the Indiana Court of Appeals concluded there was no insurance coverage under a homeowner's policy for injuries suffered by the insured's minor guest when she was riding the insured's ATV off of the insured's property: Illinois Farmers Ins. Co. v. Wiegand, 808 N.E.2d 180 (Ind. Ct. App. 2004).
Counseled and represented insurers and insureds with regard to disputes or litigation concerning liability coverage, indemnity rights, and/or the priority of coverage for construction accidents and environmental contamination.
Represented clients in the following reported cases:
Midtown Chiropractic v. Illinois Farmers Ins. Co., 847 N.E.2d 942 (Ind. 2006)
Auto Owners Ins. Co. v. United Farm Bureau Ins. Co., 560 N.E.2d 549 (Ind. Ct. App. 1990)
Knight v. United Farm Bureau Ins. Co., 950 F.2d 377 (7th Cir. 1991)
Hartford Fire Insurance Co. v. Pure Air, 154 F.R.D. 202 (N.D. Ind. 1993)
Illinois Farmers Ins. Co. v. Adams, 144 F.3d 1129 (7th Cir. 1998)
Darst v. Illinois Farmers Ins. Co., 716 N.E.2d 579 (Ind. Ct. App. 1999)
Baxter v. ISTA Ins. Trust, 749 N.E.2d 47 (Ind. Ct. App. 2001)
Jackson v. Jones, 804 N.E.2d 155 (Ind. Ct. App. 2004)
Federated Rural Elec. Ins. Exchange v. National Farmers Union Prop. & Cas. Co., 816 N.E.2d 805 N.E.2d 456 transfer granted 816 N.E.2d 1157 (Ind. 2004)
Northern Assurance Co. of America v. Thomson, Inc., 996 N.E.2d 785 (Ind. Ct. App. 2013)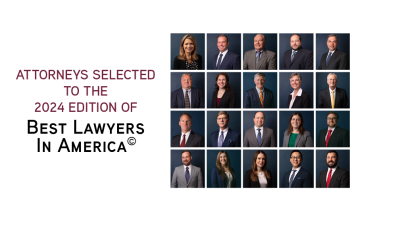 Riley Bennett Egloff Announces 2024 Best Lawyers Honorees 20 RBE Attorneys Recognized as Best Lawyers in America...
Presentations
Indiana Continuing Legal Education Forum Seminar: "Uninsured/Underinsured Motorists" (1996)
NBI Seminar: "Insurance Litigation in Indiana" (1995, 1997)
Indiana Continuing Legal Education Forum Seminar: "Advanced Insurance Law" (1998, 2000, 2002, 2004, 2006, 2008)
Indiana Continuing Legal Education Forum Seminar: "Trucking Law: Trucking Insurance Policies and Insurance Issues Arising From Trucking Accidents" (2012)
Indiana Law Update Seminar: "Insurance Law" (2013)
Industries Served
Construction
Insurance
Non-profit Organizations
Transportation
Practice Areas
Business Litigation
Commercial Litigation
Insurance
Business Contract Disputes
Non-competition Covenants
Shareholder & Partnership Disputes
Insurance Defense / Insurance Coverage
Arbitration / Mediation / Alternative Dispute
Product Liability
Toxic Tort
Insurance Defense
Insurance Coverage
Insurance Regulation
Associations
Indiana State Bar Association
Indianapolis Bar Association, Litigation Section
American Bar Association

Litigation, Tort and Insurance Practice Sections

Defense Research Institute
Defense Trial Counsel of Indiana

Chair of Insurance Coverage Section, 1999
Bar and Court Admissions
Indiana, 1987
U. S. District Court for the Northern District of Indiana
U.S. District Court for the Southern District of Indiana
U.S. Court of Appeals for the Seventh Circuit
Education
Indiana University Robert H. McKinney School of Law, JD, magna cum laude, 1987

Indiana Law Review, Note and Development Editor, 1986-1987

Carleton College, BA, magna cum laude, 1984