Biography
Rob Brandt has been with Riley Bennett Egloff since 2004 and served on the management committee at RBE from 2016 – 2021. Rob practices primarily in civil and business litigation, with an emphasis in the health care field. He handles all aspects of medical malpractice defense litigation for long-term care facilities, hospitals and other health-care providers, before Medical Review Panels and courts throughout the State of Indiana. Rob's practice also focuses on representing insurance clients in regulatory matters before the Indiana Department of Insurance.
Prior to joining Riley Bennett Egloff, Rob served as a deputy prosecutor in Hamilton County, Indiana, where he successfully prosecuted misdemeanor and felony offenses in numerous jury and bench trials.
Community Activity
Indiana Health Care Foundation – Board of Directors (2013 – 2019)

The Indiana Health Care Foundation (IHCF), a 501 (c) (3) organization, was established in 1997. Their core purpose is to further the knowledge, education, information, and understanding in the areas of the health care, wellness, and services to the aged, and chronically ill.

Indianapolis Parks Foundation (2006 – 2007)

The mission of the Indianapolis Parks Foundation is to enhance the recreational, educational, and cultural life of the Indianapolis community by encouraging and soliciting support for our city's parks system.
Representative Matters
Represented hospital and physician in medical malpractice claim by a patient who alleged the failure to properly manage renal function. The case was dismissed on summary judgment grounds due to Plaintiff's failure to adhere to the deadlines set forth in Indiana's Medical Malpractice Act, including the 180 day deadline for the Medical Review Panel to issue its opinion. Plaintiff appealed and the Court of Appeals affirmed the trial court's decision holding that the trial court did not abuse its discretion when dismissing Plaintiff's case given Plaintiff's lack of communication with the panel chair and opposing counsel and given Plaintiff's presentation of scant evidence to demonstrate good cause for his lengthy delays in tendering his submission to the Medical Review Panel. Shotts v. Anonymous M.D. et al., 2019 WL 5198916 (Ind. Ct. App. 2019)
In a case involving claims of sexual assault and medical malpractice against a long-term care provider, the defense obtained dismissal via summary judgment at the trial court level. Pro-se Plaintiff sought an appeal of the dismissal but filed his Notice of Appeal one day late and asked the Court of Appeals to allow his belatedly filed appeal to proceed arguing that he had good cause for the untimely filing as he was incarcerated, and did not have access to the jailhouse law library. The Court of Appeals initially granted Plaintiff's request to file the belated appeal but reversed this decision after Defendants filed a Motion to Reconsider. The defense identified multiple other litigation matters pro-se Plaintiff was involved in and utilized filings made by pro-se Plaintiff in those cases as evidence to establish that during the time period he claimed he could not file his Notice of Appeal he was actively filing multiple pleadings and motions in those other matters. The Court of Appeals reviewed the evidence tendered, agreed with the defense and vacated their prior order dismissing Plaintiff's appeal.
Successfully defended a premises liability claim in Hamilton County, Indiana involving allegations that a post-op CABG sustained a fall when her attending nurse failed to lock the wheels on her hospital bed. Plaintiff alleged that the fall resulted in multiple injuries including the development of an incisional hernia eight months later. At the conclusion of trial, the jury awarded plaintiff less than 10 percent of her last settlement demand and less than 2 percent of what Plaintiff asked the jury to award.
Successfully represented hospital in invasion of privacy claim where employed nurse improperly accessed patient's protected healthcare information and disclosed patient's current health status to his ex-wife. Obtained summary judgment on behalf of the hospital on the grounds that the nurse was acting outside the scope and course of her employment as the undisputed material evidence showed the nurse was routinely provided HIPAA/privacy training, was explicitly prohibited from accessing the protected health-care information of patients she was not caring for, and acknowledged in writing that she understood these prohibitions.
Obtained a defense verdict in a medical malpractice jury trial in Marion County, Indiana where Plaintiff alleged ICU physicians failed to properly manage the patient's intravenous lines after complications during a hysterectomy. Plaintiff's wrongful death claim alleged the ICU physician's failure to remove a properly operating femoral line resulted in the development of a massive thrombus leading to a pulmonary embolism and death.
Defended insurer against a Department of Insurance order directing insurer to pay an eight-figure penalty, based on allegations that the insurer failed to adhere to state law and administrative regulations. Parties ultimately settled dispute for less than 10 percent of the alleged amount claimed, prior to hearing on insurer's Petition for Judicial Review.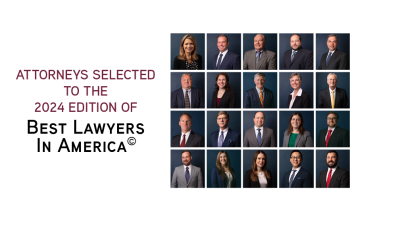 Riley Bennett Egloff Announces 2024 Best Lawyers Honorees 20 RBE Attorneys Recognized as Best Lawyers in America...
Awards & Recognition
Indiana University Maurer School of Law Moot Court Team – ABA National Appellate Advocacy Competition (2001 – 2002)

The ABA Law Student Division National Appellate Advocacy Competition emphasizes the development of oral advocacy skills through a realistic appellate advocacy experience. Competitors participate in a hypothetical appeal to the United States Supreme Court. The competition involves writing a brief as either respondent or petitioner and then arguing the case in front of a mock court.

Excellence in Oral Advocacy – Moot Court (2001-2002)
Federal Communications Law Journal – Notes Editor (2001-2002)

The Federal Communication Law Journal (FCLJ) is the official journal for the Federal Communications Bar Association and, in serving this important role, often features articles and essays by Commissioners of the Federal Communications Commission (FCC) and members of Congress, as well as leading scholars in the field of Communications Law and Policy.

Indianapolis Bar Association – Bar Leader Series (2007)

IndyBar's Bar Leader Series develops lawyers for future opportunities in leadership roles in the business and legal communities. Through the Bar Leader Series, participants learn what it means to be a leader, gain insight vital to leaders in our community, and learn how to communicate, motivate, inspire, and succeed not only in your law career, but also in service to professional, political, judicial, civic, and community.
Associations
Indiana State Bar Association
Indianapolis Bar Association
Defense Trial Counsel of Indiana
Indiana Health Care Foundation (2014 – 2018)
Bar and Court Admissions
Indiana (2002)
United States District Court, Northern District of Indiana (2002)
United States District Court, Southern District of Indiana (2002)
Education
Indiana University, Maurer School of Law JD (2002)
Marist College, BA, Communication Arts (1994)
Industries Served
Health Care
Insurance
Manufacturing
Non-profit Organizations
Technology
Telecommunications
Transportation
Wholesale & Retail Sales
Practice Areas
Business Litigation
Commercial Litigation
Government Law
Health Care
Health Care Regulation & Administration
Medical Malpractice Defense
Insurance
Business Contract Disputes
Insurance Defense / Insurance Coverage
Arbitration / Mediation / Alternative Dispute
Insurance Defense
Insurance Coverage
Insurance Regulation