Biography
Kathleen concentrates her practice in civil and commercial litigation, frequently pursuing or defending cases that involve injunctive relief, such as breach of non-competition agreements, trade secret misappropriation, and unfair competition claims; contract and property disputes; shareholder and corporate control battles; failed business transactions; and RICO, fraud, embezzlement, and business tort claims. She helps clients evaluate the strengths and weaknesses of their claims and defenses in order to position themselves to resolve disputes.
In addition, Kathleen serves as outside general counsel for various privately-held businesses, and as strategist to high net-worth individuals, using her combined employment law and litigation experience to help them evaluate or negotiate employment, non-competition, confidentiality/non-disclosure, employment, change-in-control, and severance agreements. For most of her career, Kathleen has also assisted women and minority clients obtain MBE/WBE/DBE certification with governmental or other certifying agencies.
Community Activity
Pass The Torch For Women Foundation, Board Member, 2019 to present

Pass the Torch for Women Foundation is a nonprofit organization whose vision is to create a unique and powerful community galvanized by a shared belief in the value of women's leadership. Its approach in supporting women throughout their career pathway with mentoring relationships, networking, and leadership training sets the Foundation apart from other organizations.

Indiana Federal Community Defenders, Inc., Board Member, 2019 to present

The Indiana Federal Community Defenders, Inc., a non-profit corporation formed in 1993, is led by Chief Federal Defender Monica Foster. Its mission is to provide high-quality, client-centered representation to indigent defendants charged with a federal crime, as well as to provide resources and training to Federal Criminal Justice Act panel attorneys. The Board, comprised of 13 attorneys selected by the judges of the United States District Court for the Southern District of Indiana, is charged with overseeing, supporting, and charting the best possible course for the IFCD to provide the best service to clients and the court.

Assistance League of Indianapolis, Advisory Council to the Board, 2007 – present

Assistance League of Indianapolis is a nonprofit all-volunteer organization committed to serving the needs of children and adults through ongoing philanthropic programs developed and managed by its members.

U.S. District Court, Southern District of Indiana, Local Rules Advisory Committee Member, 1999-2020
Upon request of various schools or non-profit programs, Kathleen serves as an inspirational speaker to empower challenged teenage students.
Representative Matters
Represented conglomerate of multi-state, multi-million-dollar businesses in defending against lawsuit brought by estate of a founding member attempting to take control of businesses; ultimately resolved dispute with divestiture of estate's ownership in all businesses
Represented trustees of multi-million-dollar estate involving varied real estate parcels to be divided among multiple heirs; defeated all allegations of breach of fiduciary duty and prevailed in trial court judgment for clients
Represented different business clients in separate embezzlement cases, including judgments against offenders, coordination of criminal prosecution, seizure of assets, collection measures against offenders, and pursuit of malpractice action with client-favorable settlement against accounting firm whose annual reviews failed to meet GAAP standards
Represented longstanding manufacturing client in issuing first industry-standard safety warning system for products by researching, analyzing, and drafting product warning labels compliant with ANSI standards in coordination with engineering employees
Represented national companies in defending against collective action brought under FLSA for wage misclassification and underpayment; ultimately resolved dispute by capitalizing on rare opportunity to warrant nominal client involvement
Regularly represent multiple business and individual clients in interpreting, negotiating, and drafting various contracts or successful termination of contracts, including executive/management employment agreements, compensation plans, separation/severance agreements, change-in-control, confidentiality/non-disclosure, non-competition agreements, operating agreements, partnership agreements, and bylaws, as well as third-party contracts involving franchised transactions, real estate, joint venture, commerce, intellectual property, patent license, franchise, retail, rental, supply, manufacturing, warranty, regulatory, and consumer-related matters
Regularly represent clients to obtain or defeat injunctive relief being sought and to otherwise resolve lawsuits involving non-competition claims, including those involving medical/physician, executive/management, shareholder/founders, sales, industrial/manufacturing, and financial/banking
Regularly assist multiple business clients with formation of entities, conversion of entities, governing documents, corporate governance, legal compliance issues, and preparation of private placement memoranda
Regularly counsel numerous businesses who hire employees subject to non-compete or other restrictive covenants, and/or employees who need legal analysis of enforceability or compliance respecting prospective employment
Regularly counsel and assist clients in obtaining certification for minority business enterprise (MBE), woman-owned business enterprise (WBE), disadvantaged business enterprise (DBE), and service-disabled veteran-owned small business (SDVOSB) with various regional, state, and local governmental or certifying agencies
Regularly serve as outside general counsel for various privately-held businesses, providing legal advice or project management to meet their daily, varied legal and business needs
REPORTED CASES
Webster v. Methodist Occupational Health Centers, Inc., 141 F.3d 1236 (7th Cir. 1998)
Indiana Dept. of Ins. v. Vernon General Ins. Co., 784 N.E.2d 556 (Ind. Ct. App. 2003)
Sherrell v. N. Cmty. Sch. Corp. of Tipton County, 801 N.E.2d 693 (Ind. Ct. App. 2004)
Allgood v. Meridian Sec. Ins. Co., 836 N.E.2d 243 (Ind. 2005)
Lawler Mfg. Co. v. Bradley Corp., 2009 WL 1159577 (S.D. Ind. 2009)
Hoosier Energy Rural Electric Cooperative, Inc. v. John Hancock Life Insurance Co., 582 F.3d.721 (7th Cir. 2009)
In re Miller, 935 N.E.2d 729 (Ind. Ct. App. 2010)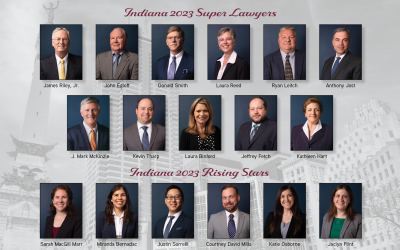 Riley Bennett Egloff is proud to announce that eleven of its attorneys were named "Super Lawyers" and six others as...
Presentations
"Covenants Not to Compete," ICLEF, Program Chair (May 22, 2012)
Presenter for various seminars to attorneys, members of the public, and clients on topics such as injunctive relief, non-competition agreements, trade secret misappropriation claims, risk abatement, and various employment law issues faced by businesses (1995-present)
Industries Served
Finance
Food & Beverage Service
Manufacturing
Non-profit Organizations
Practice Areas
Business & Corporate Law
Business Litigation
Commercial Litigation
Intellectual Property Law & Litigation
Labor & Employment Law
Wills, Trusts & Estates
Business Contract Disputes
Non-competition Covenants
Shareholder & Partnership Disputes
Non-competition Agreements
Associations
Indianapolis Bar Association

Member, 1994 – present
Board Member, 2014 – 2015 and 2011 – 2012
Counsel to the Board, 2013
Standing Committee on Professionalism Co-Chair, 2010

Federal Bar Association, Indianapolis Chapter

President, 2008 – 2009
Officer/Executive Committee Member, 2002 – 2010

Sagamore American Inn of Court

Executive Committee/Barrister, 2000 – 2010
Bar and Court Admissions
Indiana, 1995
United States District Court for the Northern District of Indiana , 1995
United States District Court for the Southern District of Indiana, 1995
United States Court of Appeals for the Seventh Circuit, 1998
United States Court of Appeals for the Federal Circuit , 2000
Education
Indiana University Robert H. McKinney School of Law, JD, 1994
Indiana University, BA, with distinction, 1990
National Institute for Trial Advocacy, Boulder, Colo., Graduate, 2000
ICLEF Civil Mediation Training (40 hours, Summer 2010), Graduate